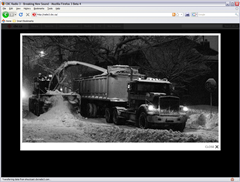 CBC Radio 3, a radio program and satellite channel that features all-Canadian music I like, featured one of my pics today. They maintain a pool on flickr where people can submit their shots. Each day they pick a photo from this pool as their image of the day.
It's also the background image for their website, but only for today (if you click on the "show background" in the lower right you get the whole image).
It's a little thing, but it's pretty cool for me.
(the original is here)